Customizable signage templates
Choose from hundreds of free ready to use templates for your digital signs, customize them however you want to deliver your message
Smart templates, much more than static
Utilize one of our many animated 3D templates, or create your own with customizable animated backgrounds
Unlike other platforms anything in our templates can be animated and customized. Set your location and link your accounts, our smart templates will take care of the rest
Start with a template and add anything else you would like from our dozens of available apps
Professionally designed content
Search through hundreds of carefully crafted digital signage templates created by our design team. Edit them right through your browser to personalize them to fit your brand
New templates are constantly being added. Don't see one that you fits your needs? Let us know, and our design team can assist
Portrait or landscape, we have you covered
Most of our templates are created in landscape and portrait modes to make it easy to find a design for your screens
Our auto-sizing templates will ensure the full screen is utilized when sent to your signs
Complete design freedom, with a fully visual editor and customizable sections, you don't need other programs to make your signs look great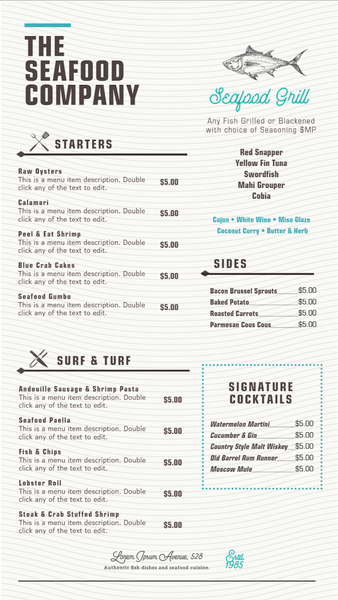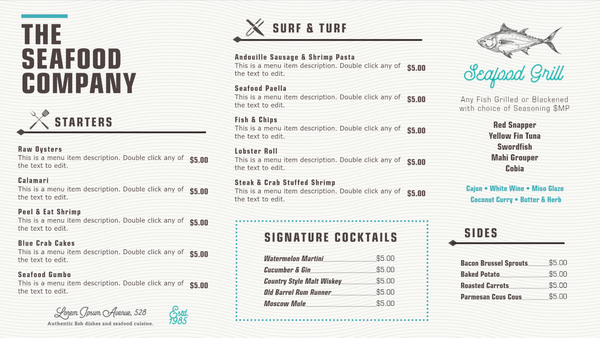 Constantly growing library of templates and features
Design trends change, as well as technologies. With MangoSigns, your template library will always be fresh with new designs and features implemented and released regularly at no extra cost
True drag and drop
Drag and drop, rotate and resize anything on your templates and slides in any layout you would like.
Design freedom
Position and style your content exactly how you want it. You don't have to worry about feeling restricted by a template again.
Brand friendly
We make it easy to upload your logos and set your colors so that templates fit your brand with little effort.
School Templates
Welcome your students back, communicate important messages, or countdown to an event or fundraiser with our templates created for schools.
Menu Templates
Find the perfect menu template for your cafe or restaurant. Using our menu app, you can quickly add, remove or update your menus in minutes.
Corporate Templates
Deliver a consistent message across your corporation using our templates created for corporate communication. Show news, weather, birthdays and more.
Retail Templates
Display current sales, countdown to sales end dates, remind customers of capacity and distancing recommendations with our retail minded templates.
Hospitality Templates
Communicate with your guests or staff with one of our many templates geared towards hospitality. Promote a discount, display your social media posts, display the weather and more.
Event Templates
Countdown to an event, show meeting rooms and times, add weather or announcements to one of our many event templates.