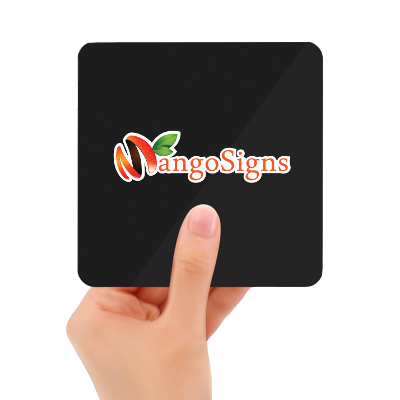 MangoSign Android Box
Mango TV Box, small package, reasonably powerful, endless capabilities. The Mango Sign Android Box is preconfigured with the MangoSign player and is a good all-around player that supports most content. Simply plug the Mango Sign Box into your TV and connect to your internet through WiFi or ethernet cable. Each Sign Box can display its own content. Purchase a Sign Box for each TV you would like to play information on.
OS: Android 9.0

Octa Core Processor

4GB of RAM

2.4G/5G WiFi Support

Ethernet 10M/100M Support

HDMI 2.1 Video/Audio output

Supports Resolutions up to 4kx2k@60fps

Optical Audio output

Approximately: 4.5"W X 4.5"H X .75"D

Generally ships between 1 - 2 working days from purchase. Shipping takes approximately 2-3 days.
Have your own Hardware or Devices?
Head on over to our Players page and download the MangoSign Player that is compatible with your device.
Or if you would like to see some other devices that we have tested and are compatible with our software, see our recommended hardware